Hi all
Hope you're having heaps of fun at the party. Thought I'd chat a little about TEACH ME and share a recipe for Cashew & Salted Caramels.
TEACH ME holds a place dear to my heart. I wrote this book after I emerged from a dark period in my life. The emotional roller coaster, the exuberance and joy, the novel contain are a direct result of that. Elizabeth and Malvern will always hold a special piece of me, and I hope you enjoy it too.
Ever curious, Elizabeth, Viscountess Rocksley, has turned her curiosity to erotic pleasure. Three years a widow, she boldly employs the madam of a brothel for guidance but never had she expected her education to be conducted by a coldly handsome peer of the realm.To the Earl of Malvern, the erotic tutelage of a skittish widow is little more than sport, however the woman he teaches is far from the mouse he expects. With her sly humor and insistent joy, Elizabeth obliterates all his expectations and he, unwillingly fascinated, can't prevent his fall.
Each more intrigued than they are willing to admit, Elizabeth and Malvern embark upon a tutelage that will challenge them, change them, come to mean everything to them…until a heartbreaking betrayal threatens to tear them apart forever.
~ Excerpt ~
Moments passed, the earl's impassive gaze weighing heavy upon Elizabeth. An overwhelming urge to twist her fingers assaulted her, but what if her fidgeting made him refuse?
He seemed to make some decision. "I shall show you carnal pleasure, madam. As you say, both to receive and to give. However, pregnancy should be avoided at all costs." His eyes flickered, the first sign of something resembling emotion crossing his face. "I will not marry you, no matter the circumstance."
Well, of course he wouldn't. She wouldn't wed him either. In any event, conception was not a concern for her, not after a marriage that had never yielded—
Good Lord. He spoke of practical application. He spoke of touching and kissing and—Was it warmer of a sudden?
He continued with barely a pause. "Actual penetration will be avoided. While many people extol the virtues of withdrawal, I remain unconvinced. We will discuss methods of contraception during your education, but the most effective method is always avoidance. You are in agreement?"
Still confused but now with cheeks aflame, Elizabeth nodded. In all her life, no one had ever spoken so frankly. This, combined with his matter-of-fact manner and lack of emotion, banished any lingering apprehension and left only the excitement. Glorious, thrilling excitement.
"Excellent." Stepping close to her once more, he brushed his hand from her neck to her shoulder, the back of his fingers now warm against her skin. "Shall we begin?"
============================================
And now , a recipe!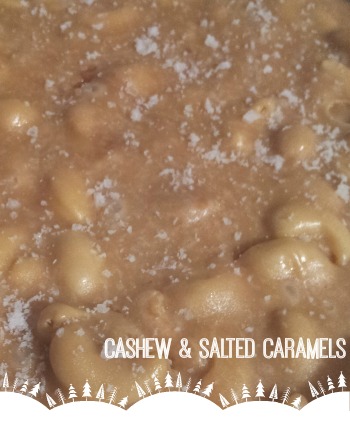 recipe from The Australian Women's Weekly Christmas Collection
Ingredients
1 1/2 cups caster (superfine) sugar
1 1/2 cups thickened (heavy) cream
1/4 cup glucose syrup
1 1/2 cups unsalted cashews
2 teaspoons sea salt
Line a baking pan with baking paper. I used a square tray about 20cm x 20cm. Also, neat trick with baking paper I learned from Jamie Oliver is to cut off the required amount, scrunch into a ball and then dunk in some water. This will make the paper extremely pliable and able to fit any shape. Nifty, hey?
Stir sugar, cream and glucose in a saucepan until sugar is dissolved. Bring to the boil and keep boiling uncovered until the mixture reaches 120C (248F). If you don't have a candy thermometer, there are nifty ways to tell if the mixture is ready. I have a candy thermometer but I have no idea where it is so used the old fashioned method. It worked out a treat – you can totally see when the mixture is ready, btw.
Add nuts and half the salt but don't stir (um, whoops. Totally stirred. Oh well, the world doesn't end if you stir, so don't fret, peeps.) Pour caramel into prepared pan and sprinkle with remaining salt. Allow to cool.
Use a warm knife to cut caramel into pieces.
You can store the caramels between layers of baking paper in an airtight container in a cool dry place for up to a week.